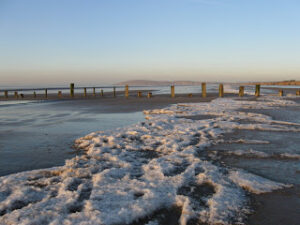 Just back from a few days' walking in Somerset, mainly in the Quantock Hills. This is an area that I've previously only zipped through, en route to other walking destinations such as Exmoor or the South-West Coast Path, little realising what I was missing. The landscape's a mix of gorse-and-heather-covered hilltops and steep-sided wooded combes, and on one sub-zero morning there was a smattering of snow – my favourite kind of walking weather. The area has literary associations too – Coleridge lived in the village of Nether Stowey and both he and Wordsworth went a-wandering in the hills.
I also spent time on Berrow Beach, near Burnham-on-Sea – this was quite a nostalgic visit as, for the first three years of my life, I lived in a bungalow behind the dune system that backs on to this wonderfully extensive stretch of sand. I'd never seen it in such icy, and beautiful, conditions, with a frozen tideline and the bluest of winter skies. The beach was completely deserted but for a man walking near the nineteenth century wreck of a Norwegian barque embedded in the sand about a quarter of a mile away.
Needless to say, my very gregarious adolescent chocolate labrador decided he needed to greet this man and galloped off into the distance towards him. While I yelled ineffectually for him to return, he circled the man three times, tail wagging frenetically, before hurtling all the way back to me to claim a treat for performing what he considered to be the perfect recall!